Family Connections: Get to Know Some Evolve Families!
At the start of the year, we lost a legendary sports icon and devoted #girldad – Kobe Bryant. When we think about Kobe, sure we recollect on some of his game-winning shots and his signature fadeaway, but what resonates most was his dedication to basketball and his love for his daughters. Look around Evolve and you'll see similar passion, with many siblings, spouses, and relatives coming and putting in hard work together. We are fortunate to be able to train, coach, and guide families in this awesome community in a way that doesn't diminish the importance of family time or constrict the needed consistency in sports. Kobe Bryant mastered this balance in life with his career and his loved ones, and despite the many challenges he faced – he excelled at them both.
We wanted this month's blog to highlight some of the very families who emulate that same perseverance – the families who refuse to commit at the cost of their loved ones and instead grapple, box, and work out with them under one roof.
Read on to hear from some of these families.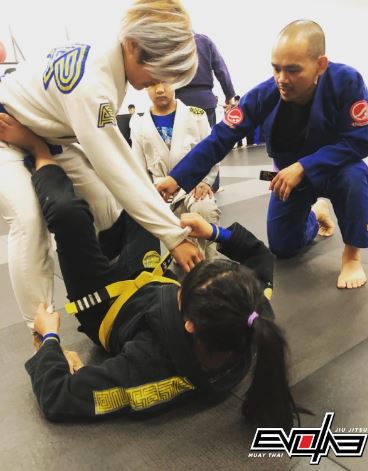 Meet Jaimmie and Angelo Cuartero who train Jiu-Jitsu alongside their children Aaliyah and AC.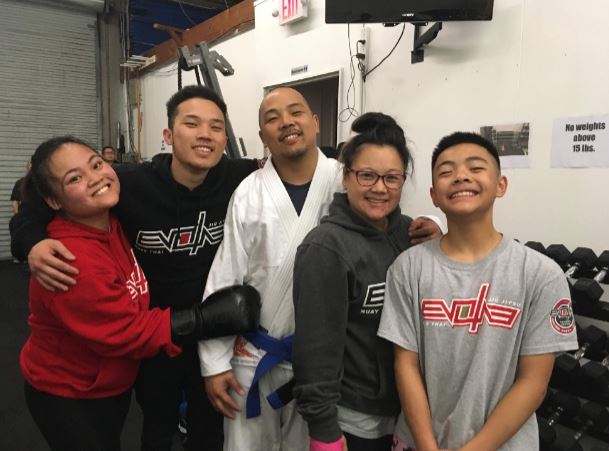 Jenn and Romer Abad and their children Cameron, Tre, and Raen all participate in Boxing for Fitness, Muay Thai, and Jiu Jitsu, often taking class together.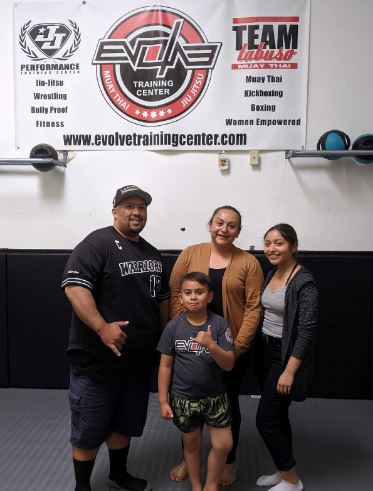 Jason and Claudia Zervoulakas and their daughter Cassia Ureta frequent our Boxing for Fitness and Fit Camp classes and their young son Jason Jr. participates in both Kid's Jiu Jitsu and Kid's Muay Thai.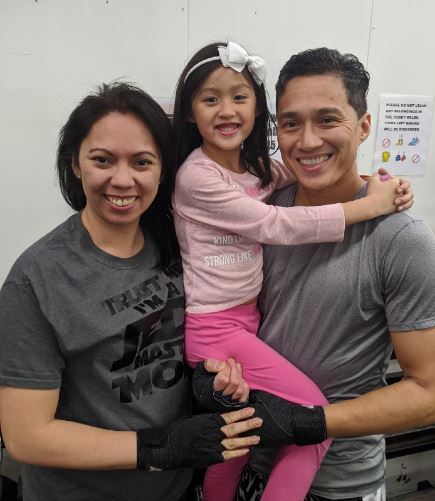 Kris and Leslie Neri do it all and train Jiu Jitsu and Muay Thai with their daughter Jordan.
Check out their interviews below!
How has training at Evolve brought your family closer together?
Cuartero Family: We have the ability to spend time with each other while working out and training. Training at Evolve allows us to work out alongside our kids without losing our time away from them.
Abad Family: Evolve provides another safe environment for our family to share as a common ground, a "second home" if you will. If we're not at home, work/school, another likely place to find us is Evolve. ETC gives us the opportunity to share something as a family. It's difficult to find an activity that interests children who are both teens and young adults, but Evolve gives us that.
Zervoulakas Family: Outside Evolve, at home, we are able to watch MMA, jujitsu, boxing, etc. and understand the sport and discuss what we see. I think it's awesome to see my wife and kids have a better understanding of fighting sports.
Neri Family: My family enjoys training together with great/awesome coaches and friendly teammates. As a family, we formed a bond/common interest and love of Muay Thai and Jiu-Jitsu. Training at Evolve became part of our lifestyle. As the saying goes, "family that trains together, stays together." Evolve motivates the whole family to be fit and stronger together.
What message of inspiration do you have for other families?
Cuartero Family: Evolve has such a family feel to it that once you step on the mats or walk through the door, you are automatically family. A family that trains together, stays together.
Abad Family: I would tell families, more so parents, to get on the mats. Practice what your children practice, drill what they drill. Struggle together and grow together. The real inspiration is in each other.
Zervoulakas Family: A family that trains together, stays together.
Neri Family: It's worth the investment of time spent with family training and learning new martial arts, and it promotes a healthier lifestyle.
What's the biggest impact Evolve has had on your family?
Cuartero Family: We choose to live a healthy lifestyle, and Evolve has allowed us to share our value with our kids.
Abad Family: The biggest impact has been the community, the families we've met, the coaches we've learned from. Aside from the community, Evolve has given not only my children but my entire family, the confidence to confront life challenges head-on.
Zervoulakas Family: One major impact is our growth in self-confidence. Each family member trains 110% out, and the payoff has been rewarding!
Neri Family: The whole family is more focused and disciplined to make each other better in healthy competition.
Although these families are unique in their ways, they all have a fundamental commonality, and that's the firm belief in growing together, training together, and most importantly, being together.
Do you find yourself wanting to work out or try something new, but you work, have kids, and don't think you have the time? At Evolve, you'll find a family culture that will fit your needs. Evolve isn't just a place to release aggression and gain muscles – it's a place many call a "second home"; and what defines home?
A family.
So let's continue the new year and attack our dreams and goals with the same tenacity and velocity that Kobe did!
"Sports is such a great teacher. I think of everything they've taught me: camaraderie, humility, how to
resolve differences." – Kobe Bryant